MARATONA DLES DOLOMITES – ENEL
MARATONA DLES DOLOMITES – ENEL
7th July 2024
Dolomites
Trip highlights:
If you want to live your life to the fullest as a passionate cyclist, then there is a riding experience you must have at least once in your life, and that is the Maratona dles Dolomites. Is it difficult and challenging? Yes! It is unique and breath-taking? Yes! Will it be awe-inspiring and life changing? Yes! and Yes!
With our custom package the experience doesn't begin or end with the Maratona but makes this epic event the focal point of a holiday which includes beautiful hotels, gorgeous scenery, gourmet wine and dining and of course, more fabulous cycling.
We'll ensure your entry to this event, which sells out year after year because this year we are official tour operator. Nicola and one of our professional guides will be your ride leaders and will accompany you throughout the Dolomites, making sure you are well taken care of.
You'll stay and relax at your choice of 4- and 5-star hotels, all in the beautiful mountain town of Corvara, and very convenient to the ride start and finish line.
With three distances to choose from (Sella Ronda Course, 55km – Middle Course, 106km – Maratona Couse, 138km) all three courses of the Maratona will have you conquering the famous Campolongo, Pordoi, Sella and Gardena passes. The shortest route includes 1,780 meters of climbing while the longest course tackles 4,230 vertical metres for a truly epic ride. You'll feel the excitement when you ride as one of 9000 cyclists, with the entire course closed to traffic. The organisation of this event is second to none.
DETAILED PROGRAM
DAY 1 – Arrival and Passo delle Erbe ride
TUESDAY 4 JULY 2024

The group will leave early in the morning to go to Bressanone, where we will begin the Passo delle Erbe climb supported by van. Passo delle Erbe is 29 kilometers, with an average grade of 4.9%. After the climb we'll descend into the Corvara area to end the ride at our destination hotel(s). Check-in, welcome drinks and dinner at the hotel.

46km – 1820mt elevation
DAY 2 – Sella Ronda Ortisei ride
FRIDAY 5 JULY 2024

We will ride the epic Sella Ronda course, which is also the short course of the Maratona. We will be supported by our van and our driver/mechanic. After a picnic lunch, we'll ride from our hotel to pick up our Maratona welcome packs. Dinner at your hotel.

55km – 1670mt elevation
DAY 3 – Passo Campolongo ride
SATURDAY 6 JULY 2024

After a nice breakfast at your hotel, you will have the choice to participate or not in an easy ride for a coffee and the typical Apfel Strudel up to Passo Campolongo. Together we'll have lunch at the RIFIUGIO COL ALT with a fantastic view of the scenery of the DOLOMITES. In the afternoon we'll relax around CORVARA. Dinner at your Hotel.

30km – 500mt elevation
DAY 4 – Maratona Dles Dolomites
SUNDAY 7 JULY 2024

This is the day of the epic "MARATONA DLES DOLOMITES 2024"
Wake up call at 5.00am for a super energetic breakfast. Roll down to the start in La Villa and be ready to ride the event of your life at 6:30 am. After completing the Maratona dles Dolomites enjoy the complementary pasta party and beer while you share your ride triumphs and experiences. For our last night, we will have a special dinner together, where we can talk and laugh about our triumphs in the Dolomites

138km – 4230mt elevation
DAY 5 – Departure
MONDAY 8 JULY 2024

After breakfast we'll return to Peschiera del Garda or to the airport. For those staying in Peschiera del Garda with us, we'll go for an easy recovery ride along the Lake in the afternoon.
SERVICES AND FACILITIES INCLUDED
PACKAGE INFO
7 NIGHT (MINIMUM) PACKAGE, which includes: 3 night stay at Lake Garda from Monday, 1st July to Thursday 4th July (which can be extended further to suit your needs). 4 nights in the Dolomites, from Thursday 4th July to Monday 8th July 2024
ACCOMODATIONS
Overnights in a 4 or 5 stars Hotel in Corvara and in a 4 stars Hotel in Lake Garda
MEALS & GOURMET
Breakfast
Lunch & Dinner in local restaurants, trattorie & osterie or in hotel restaurant
Water and energy drinks, bananas, bars and sandwiches for daily rides
CYCLING SERVICES
Guided tours with local guides
Daily rides 7 days a week
Custom program in terms of lenght & altimetry of the rides.
Daily laundry service for your bike clothing including your free laundry net bag.
Full kit (Jersey + wind vest) brand Sportful x Andiamo Cycling
Water bottles
PINARELLO RENTAL
For this package the rental of a PINARELLO DOGMA F DISK is included in the price
TRANSFERS
Transfer with our driver and minivan from and to Verona "Valerio Catullo" airport (available from 8 am to 8 pm) with prior arrangement. At extra cost we can arrange private transfer to all the major airports of northern Italy (Milano – Venice – Bergamo)
OPTIONAL EXTRAS
PRIVATE TRANSFER TO MILANO – VENICE AIRPORTS
We can arrange private transfer to all the major airports of northern Italy (Milano – Venice – Bergamo)
SINGLE ROOM
If you would prefer to stay in a single room, please let us know
MASSAGE
Massage Area with masseur and physiotherapist available with prior arrangement.
THE BEST HOTEL
CHOICE FOR THIS
EVENT
LAKE GARDA
Enjoy Garda Hotel ****
The first and original bike hotel located in the south of Lake Garda & Verona, offering customized services for all cyclo-tourists. 42 rooms and 3 suites come with a wide range of high-quality services in order to provide you with comfort and quality. This is Andiamo Cycling headquarter on Lake Garda
CORVARA DI BADIA
Hotel La Perla *****
Part of The Leading Hotels of the World group, a luxury hotel collection of 375 hotels in 75 countries of only the most distinguished properties. The fascination of this place is not about what there is, but about what there isn't. The elegance of La Perla is its simplicity. The Beauty and Wellness center, the restaurants, the wine cellar, guest rooms with a view, the fireside lounge, the veranda: all perfect in making your body and mind feel at ease.
SERVICES INCLUDED IN THE HOTEL:
• Accommodation in double rooms with half board
• Buffet breakfast every morning in your selected hotel
• Lunches will be a combination of picnics and local restaurants
• Dinners at your hotel restaurant
CORVARA DI BADIA
Posta Zirm ****
For 4 generations the Kostner family has been taking care of their guests with sincere dedication and hospitality. The rooms are characterized by an elegant and contemporary style respecting the Ladin tradition.
SERVICES INCLUDED IN THE HOTEL:
• Accommodation in double rooms with half board
• Buffet breakfast every morning in your selected hotel
• Lunches will be a combination of picnics and local restaurants
• Dinners at your hotel restaurant
OFFICIAL PINARELLO BIKE RENTAL
---
PINARELLO
DOGMA F
The Dogma F is a high-performance race bike with aggressive geometry. This bike is recommended for high level athletes who regularly ride high performance race bikes and are accustomed to the leaned over and low position, as well as the snappy handling, of this race bike.
---
CYCLING KIT
We will gift you the Andiamo Cycling Kit by famous italian brand Castelli. The full kit will consist of shirt, bibs, hat and wind vest
---
TRANSFER & VAN SUPPORT
We offer a daily van support for all your activities… from the rides, to the transfer from/to restaurants and all the transfer to the extra ride activities. We have a fleet of 4 top level minivan.
OUR PLUS
Our tours will not be cancelled for failure to reach the minimum number of people. All tours start even with only 1 guest.
We are a certified tour opearator and with all the official documentation. We are Italians and our headquarters is in italy.
We are not a foreign agency that sells trips in italy, but outsources the management of clients to third agencies, or to local cyclists, who operate without any control. Nicola, Davide or Alberto are always present in person with our staff at every event.
In all our tours, our clients has an insurance for cancellation – assistance – medical expense Reimbursement – luggage. Not all the tour operator include this service.
Our bike manager carefully selects the best hotels and restaurants to give our clients the best possible experience.
PRICING
Package price starting from € 5.999 per person
10% discount to Garda Bike Hotel or Andiamo Cycling returning customers
Because this package has so many variables and options available, please contact us with some ideas of the nights you would like to spend, and we will quickly supply you with your own custom package and prices. Ask us for an offer for this amazing event here: info@andiamocycling.com
Kindly note that we are a Maratona dles Dolomites Official Tour Operator only for guests from the Americas (North, Central, South), Australia & New Zealand, and the United Arab Emirates
---
Davide
Head guide
---
Nicola
Guide & bike manager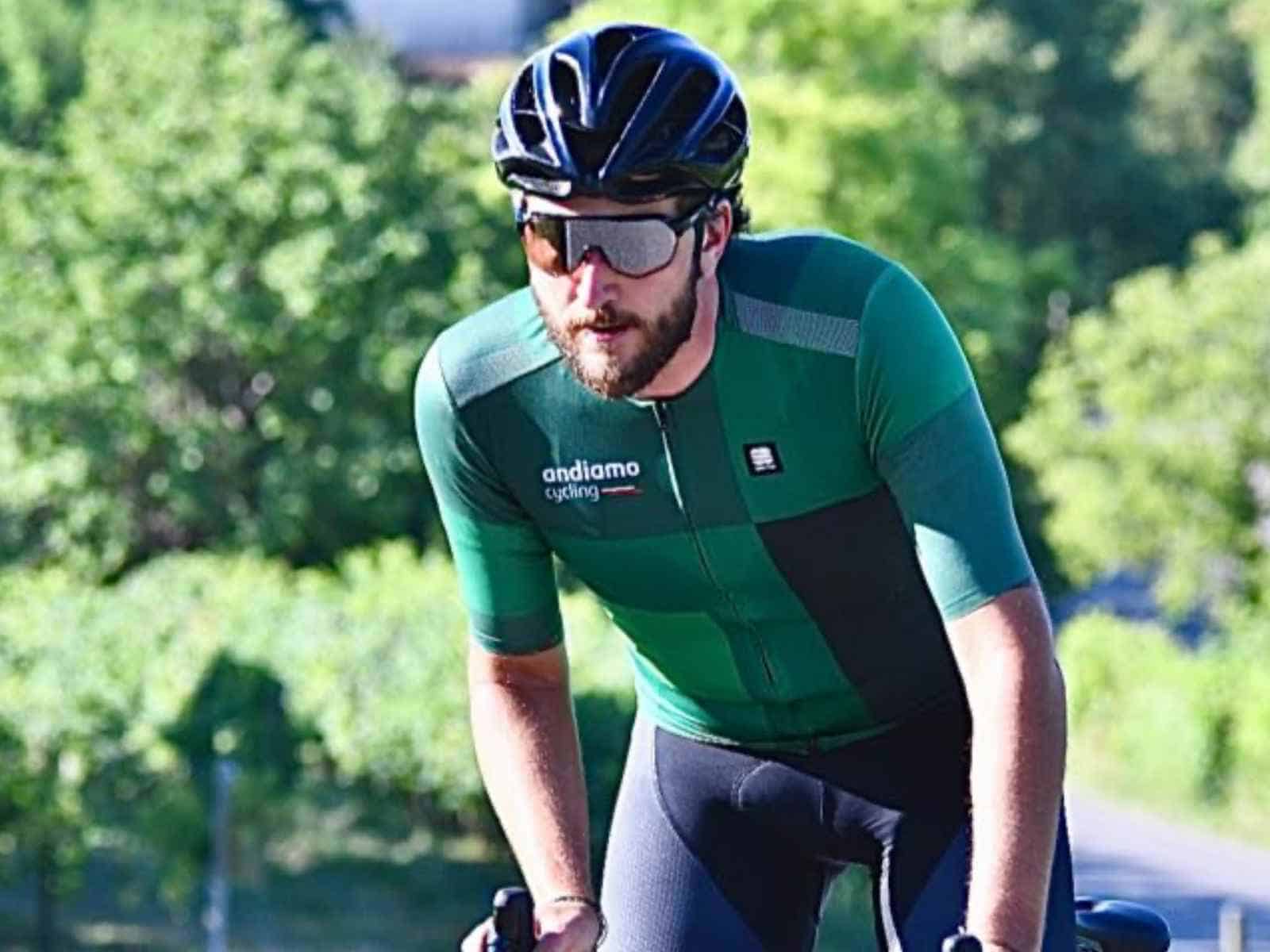 ---
Alberto
Guide & bike manager
---
Simone
Guide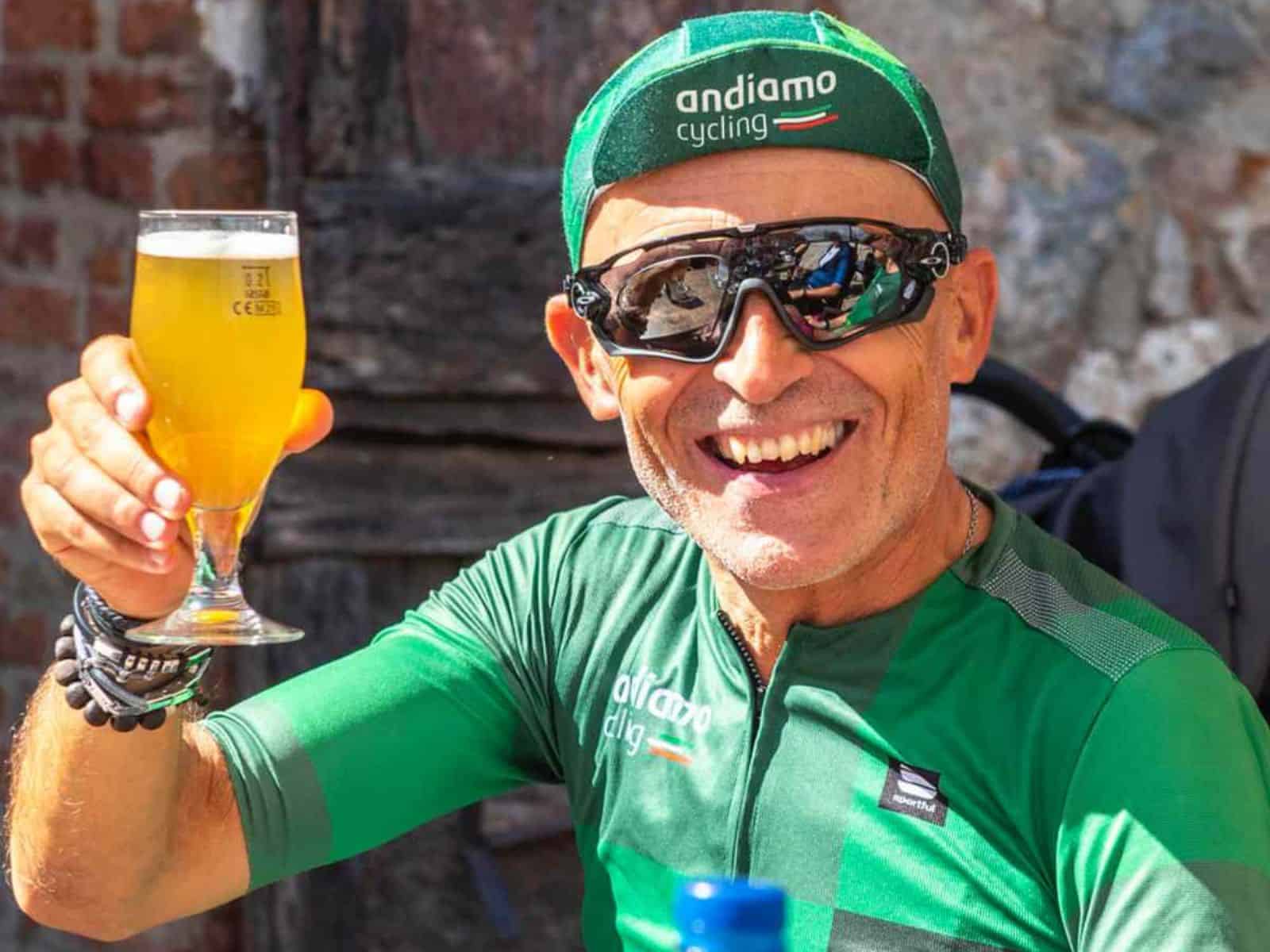 ---
Daniele
Guide
---
Roberto
mechanic & van driver